Event Details
Date: Saturday, September 29, 2018
Location: Oak Ridge Park | MAP
Registration opens: 8:30 A.M. | 5k start time: 9:45 A.M. | Walk start time: 10:00 A.M.
Interested in becoming a volunteer? Register here!
Contact: Nahid Wardeh | ph: 732-639-1475 | nwardeh@parkinson.org
Website: www.parkinson.org
Click Here for Full Event Details
Moving Day Schedule
8:30 AM       Registration Opens, Movement Activities Begin, Sponsor Tents Open, Resource Pavilion Opens, Kid Zone Opens
9:30 AM       Opening Ceremony – Top Team Award
9:45 AM        Runners begin 5k
10:00 AM     Ribbon Cutting and Walk Start (5K and 1-mile options)
Movement Activities Continue During the Walk
11:45 AM       Thank you
IN ADDITION TO THE WALK, WHAT ELSE CAN I DO?
The walk is just one part of Moving Day New Jersey. There are many other activities at Moving Day:
Resource Pavilion & Local Sponsor Spotlight – Visit with local businesses and organizations providing services to the local community and people with Parkinson's.
National Sponsor Row – Meet with our National Sponsors and learn about the opportunities they provide for the Parkinson's community.
Stage – Home of the Opening and Closing Ceremonies, the Stage is also party central thanks to music provided by DJ Carmen San Diego!

Activities: Special performances by Old Enough to Know Better

Team Photo Area – Gather your team together for group pictures!
Kids Zone – Activities for the younger set including carnival games and a visit by Miss Pockets, who will be entertaining the crowd and making fun balloon sculptures.
Parkinson's Foundation Resource Tent – Learn about all the free resources, educational materials, programs, and training available from the Parkinson's Foundation. Fill out a Walk Bib to honor loved ones and show why Moving Day is important to you. Visit the Parkinson's Connection Station to get free beads that you can wear to show your connection to Parkinson's disease.
Movement Pavilion – Get moving at our signature pavilion! Here's an opportunity for everyone to try out many Parkinson's-friendly exercises led by trained professionals.
Movement Pavilion Schedule
8:30 AM: Tai Chi instructed by Robert Maitland
9:00 AM: MELT instructed by JoAnn DiFranzo
9:30 AM: Yoga instructed by Mary Jane Hennessy
10:15 AM: PD Vocal/Singing instructed by Aly Chananie
10:40 AM: Dance for PD instructed by Rachel Stainslawczyk
11:10 AM: ZUMBA instructed by Mayellin Hutchinngs
11:40 AM: Dance for PD instructed by Rachel Stainslawczyk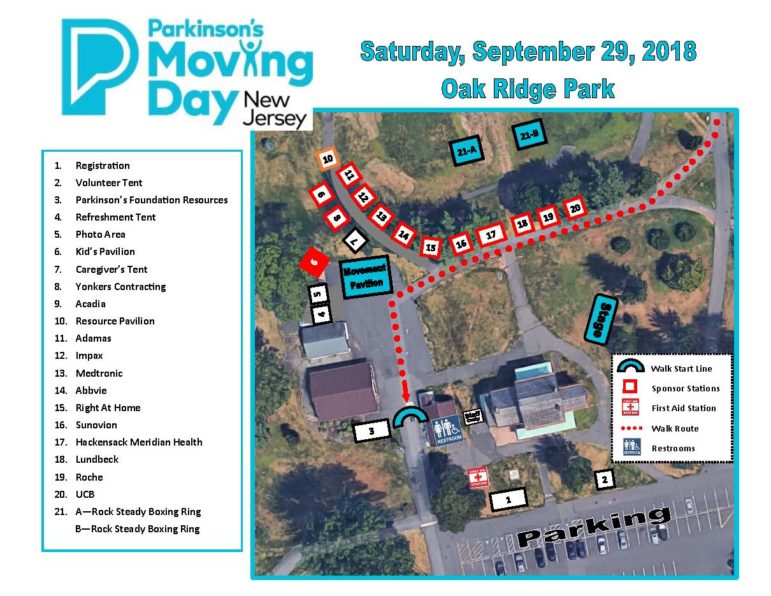 Click here for a printable version of the map.
HELPFUL REMINDERS
What is the registration fee?
Moving Day does not charge to participate in our event. As our largest fundraiser, however, we hope that everyone in attendance donates and/or fundraises.
Do I have to visit the Registration Tent? What if I registered online?
Yes. We ask that everyone in attendance stops by the Registration Tent, even if you've already registered online. It's how we'll provide you with important information, including last minute updates, and make sure you've signed a participation waiver.
How do I get a t-shirt? Can I buy one?
Limited-edition Moving Day t-shirts are awarded to participants who have raised $100 or more. Registration officials will provide you with redemption information to claim your t-shirt on event day. They are not for sale.
Do I have to be on a team? How big do teams have to be?
You can participate in Moving Day as an individual. There's no size requirement for teams. Whether your team has two members or 200, we're happy you're participating in Moving Day New Jersey to raise money and awareness of Parkinson's disease.
I have donations to turn in. Can I do that day of event?
Please drop them off at the Registration Tent when you arrive.
Can I donate at Moving Day?
Of course! We'll be accepting cash, check, and credit card donations at Registration.
I'm still waiting for some donations. Can I turn them in after the event?
YES!!! You can continue fundraising and turn in donations up to 60 days after the event.
What should I tell people who don't want to donate online?
Donations can be mailed to:
Parkinson's Foundation
ATTN Moving Day New Jersey/Nahid Wardeh
200 SE 1st Street, Suite 800
Miami, FL 33131
Please make checks payable to Parkinson's Foundation. Include Moving Day New Jersey and your name/team name on the memo line so we can properly attribute the funds to you and your team.
Directions?
The event is located at Oak Ridge Park – 136 Oak Ridge Road Clark, NJ, 07066. Click here for Google Maps driving directions. When you arrive follow the Moving Day signs.
Where do I Park?
Free parking is available at the park. There is additional free parking at the Clark Township Municipal Pool, down the street. There will be Police escorts.
Will there be food or beverages?
We will serve water, light snacks, and other light refreshments.
Is Moving Day kid friendly?
Yes! Please bring the whole family! Moving Day is a great opportunity for all your loved ones to rally around friends or family battling Parkinson's disease. All children can enjoy fun games and activities in our Kids Zone!
Who can help if I have questions or get lost at the event?
Please look for a volunteer in a neon yellow shirt, or a committee member in a light gray shirt.
How far is the walk? Is it timed?
You will have 3 route options: Full 5k, 2 miles, and 1 mile. There will be signs and volunteers at each point, letting you know when to turn for your preferred route.
Will the other areas still be open during the walk?
Yes! We understand not everyone will participate in the walk, so all activities will still be available during the walk. However, we do encourage everyone to join us at the Main Stage for the Opening and Closing Ceremonies.
What activities are in the Movement Pavilion?
EVERYONE is invited to get moving at the Movement Pavilion. Exercises are Parkinson's-friendly and can be done both seated and standing. Schedules will be posted throughout the event site and will be available at Registration. Detailed information about the classes and where you can find them will be available at the Movement Pavilion. Our current lineup includes the following classes:
Movement Pavilion Schedule
8:30 AM: Tai Chi instructed by Robert Maitland
9:00 AM: MELT instructed by JoAnn DiFranzo
9:30 AM: Yoga instructed by Mary Jane Hennessy
10:15 AM: PD Vocal/Singing instructed by Aly Chananie
10:40 AM: Dance 4 PD
11:10 AM: ZUMBA instructed by Mayellin Hutchinngs
11:40 AM: Dance/Movement instructed by Dr. Cecilia Fontanesi
Are ADA restrooms available?
Yes, there is 1 ADA restroom available near the entrance and 1 ADA restroom along the short walk route.
Is First Aid on site?
Your safety is our top priority. First Aid is located at the Parkinson's Foundation Resource Tent in the main area near the entrance.
Is there a hashtag I can use for social media?
Yes! Thanks for asking! Please let everyone in your network know how much fun you're having while helping to raise awareness by using the hashtags #MovingDayNJ #move4PD or #BeatParkinsons.
Can we do this again next year?
You bet!!! Keep an eye out on our website movingdaywalk.org and our Facebook Page @MovingDayNewJersey to see our upcoming date for Fall 2019!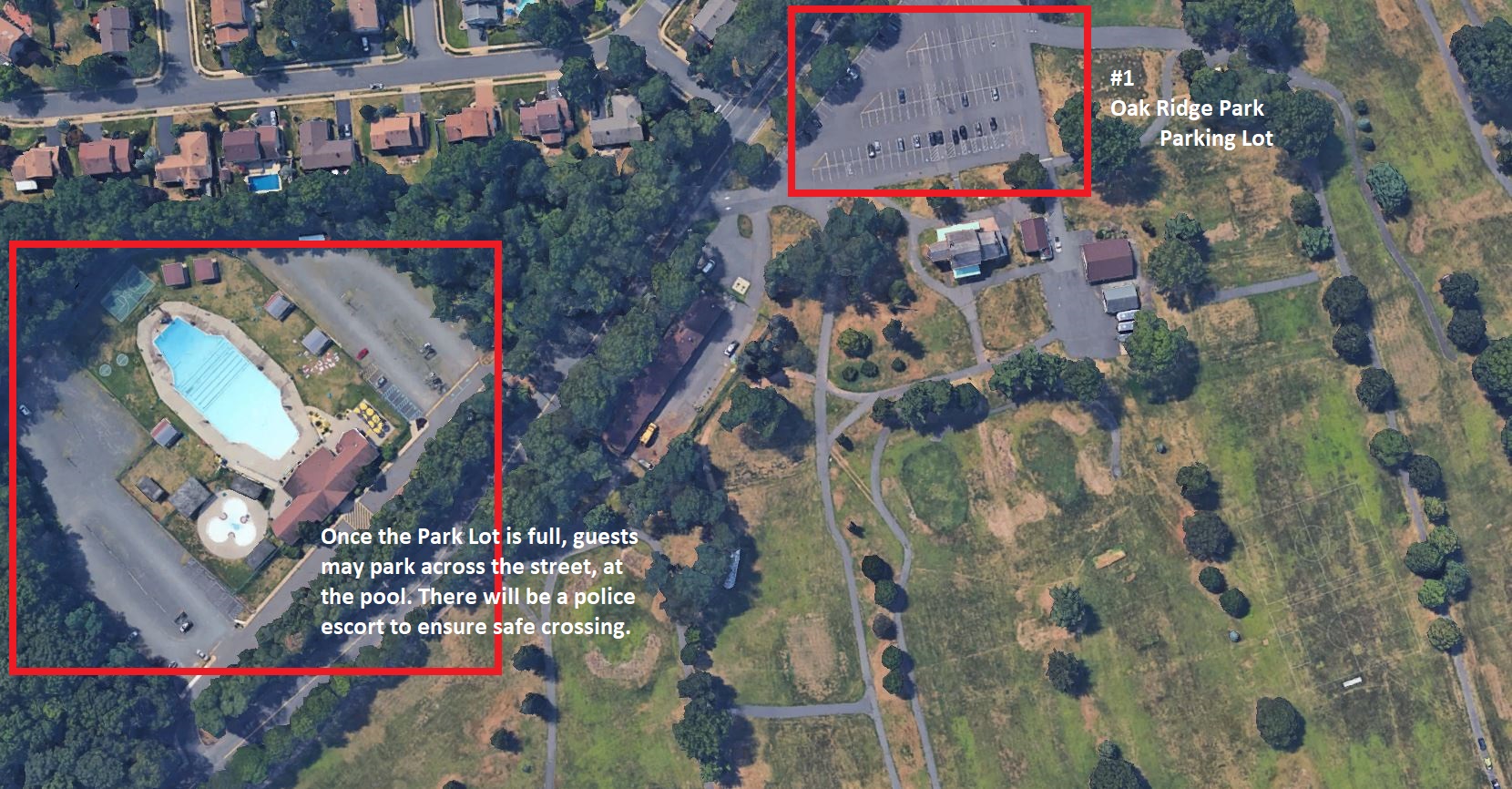 ---
To learn more about the resources in your area, and the great work of the Parkinson's Foundation, please visit our website www.parkinson.org.
If you have any questions about Moving Day, are interested in sponsorship opportunities or would like information about the foundation, please contact us below:
Contact: Nahid Wardeh | ph: 732-639-1475 | nwardeh@parkinson.org
Mailing address:
ATTN: Moving Day New Jersey / Nahid Wardeh
Parkinson's Foundation, Inc.
200 SE 1st Street, Suite 800
Miami, FL 33131