Event Details
Date: Saturday, September 28, 2019
Location: Oak Ridge Park | MAP
Activities Begin: 8:30 A.M. | We Move Ceremony & Walk: 9:45 A.M.
Contact: Nahid Wardeh | ph: 732-639-1475 | nwardeh@parkinson.org
Website: www.parkinson.org
VOLUNTEER NOW!
FAQs
Schedule of Events
8:30 AM         Festivities Begin
Check-in, Registration, Refreshment Tent, Top Fundraiser Breakfast, Rewards Tent, Resource Tents, Sponsor Tents OPEN
8:45 AM         WE MOVE Pavilion OPENS
9:45 AM         We Move Ceremony
                                    Top Team Awards
10:00 AM      Stretch Exercise
10:05 AM      Moving Day Walk/5k STARTS
11:30 AM      Passport Raffle Winner Announced                    
WE MOVE Pavilion Schedule:
8:45 AM         Yoga with Angelica
9:15 AM         Dance for PD with Rachel
10:15 AM       Zumba with Caren

11:00 AM       Rock Steady Boxing

11:30 AM        Sing w/Aly

Reminders
Registration: To expedite the check-in process, make sure people register for your team or for the event at MovingDayNewJersey.org. Otherwise they will need to register at the Registration Tent upon arrival.
Rewards Pick-Up:
Some participants are eligible for Moving Day prizes. For those who have raised:
$100 or more: Limited-edition Moving Day t-shirt
$250 or more: Limited-edition Moving Day water bottle
$500 or more: Invitation to the Top Fundraiser Breakfast
$1,000 or more: Exclusive membership to our All Star Movers Club (pin included)
Participants will receive a card at Registration to redeem at the Rewards Tent.
Directions: The event is located at Oak Ridge Park in Clark, NJ. Click here for Google Maps driving directions.
Parking: Free parking is available at Oak Ridge Park. Once the park's lot is full, please proceed across the street to the pool where there is additional parking. There will be police escorts to assist in crossing. Please note: there is limited handicap parking, so plan accordingly.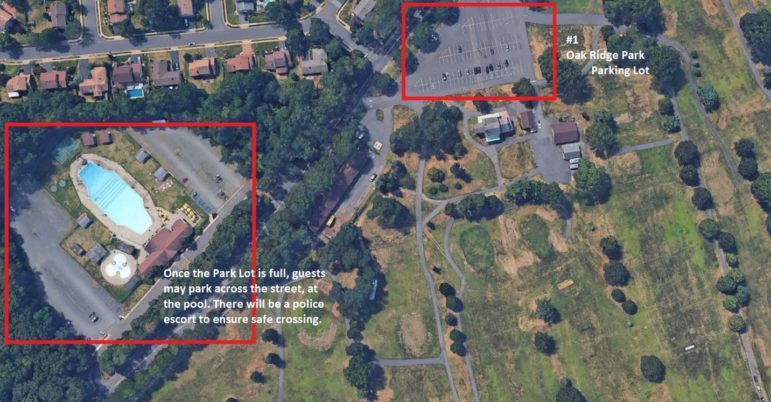 Site Map: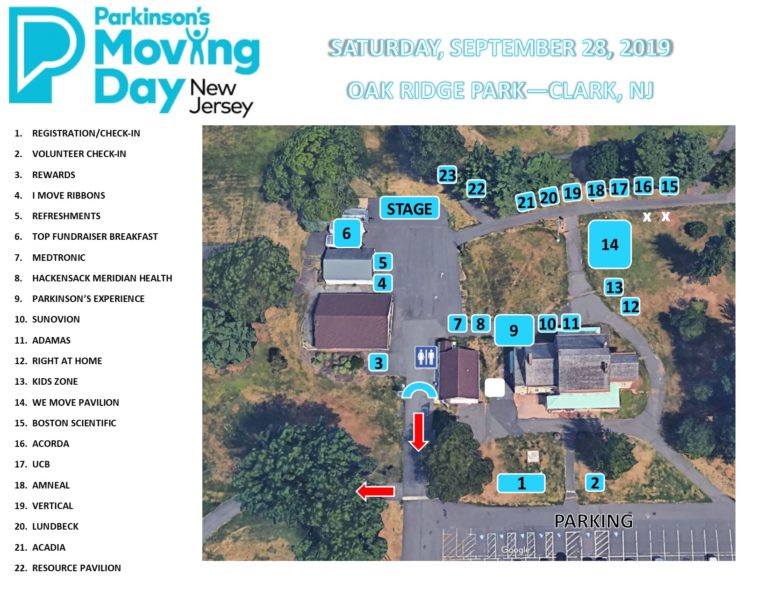 The walk is just one part of Moving Day New Jersey. There are many other activities at Moving Day! Join us in…
WE MOVE Pavilion (#14) – Get moving at our signature pavilion! Here's an opportunity for everyone to try out many Parkinson's-friendly exercises led by trained professionals.
Parkinson's Experience (#9) – Learn about all the free resources, educational materials, programs, and training available from the Parkinson's Foundation. Fill out a Walk Bib to honor loved ones and show why Moving Day is important to you. Also take the opportunity to walk in the shoes of one living with Parkinson's by trying out our Parkinson's Experiences.
Sponsor Row (#7-8, #10-12, #15-21) – Meet with our National Sponsors and Local Sponsors and learn about the opportunities they provide for the Parkinson's community.
Resource Pavilion (#22)– Visit with local businesses and organizations providing services to the local community and people with Parkinson's.
I Move Ribbons (#4) – Before we begin our WE MOVE ceremony, be sure to stop by this tent and pick up your I Move Ribbon! 4 colors represent those: living with PD, a caregiver, a loved one, or someone who moves to end PD.
Stage – Home of the WE MOVE Ceremony, the Stage is also party central thanks to music provided by DJ Drivvin, as well as musical performances by Old Enough to Know Better, JFK's Parkinsings, and our very own CEO John Lehr!
Team Photo Area (#) – Gather your team together for group pictures!
Caregiver's Relaxation Area (#23) – A resting place for Caregivers to relax and unwind, with a special treat of shoulder massages by Massage Envy Garwood!
Kids Zone (#13) – Activities for the younger set including crafts, games, and face painting!
Refreshments: Light refreshments will be available to all Moving Day participants.
For those participants who have raised $500 or more, there will be a full breakfast in our Top Fundraiser Tent.
Rain or Shine: Moving Day is rain or shine so please dress appropriately! Be sure to check the weather forecast so you can prepare. If conditions warrant any change, announcements will be made on site.
Fundraising Incentives: After the event has taken place, you will have until October 29, 2019 (30 days) to submit donations in order to qualify for an incentive prize. However, you can continue to raise funds towards Moving Day NJ until November 29, 2019 (60 days).
Moving Day Donations: Cash, check, and credit card donations will be accepted onsite at the Registration Tent. Also, you can fundraise until November 29, 2019.
After the event, checks and matching gift forms can be sent to:
Parkinson's Foundation
ATTN: Nahid Wardeh/MDNJ
200 SE 1st Street
Suite 800
Miami, FL 33131
Please include a note indicating the walker and team to which to credit the donations.
---
To learn more about the resources in your area, and the great work of the Parkinson's Foundation, please visit our website www.parkinson.org.
If you have any questions about Moving Day, are interested in sponsorship opportunities or would like information about the foundation, please contact us below:
Contact: Nahid Wardeh | ph: 732-639-1475 | nwardeh@parkinson.org
Mailing address:
ATTN: Moving Day New Jersey / Nahid Wardeh
Parkinson's Foundation, Inc.
200 SE 1st Street, Suite 800
Miami, FL 33131