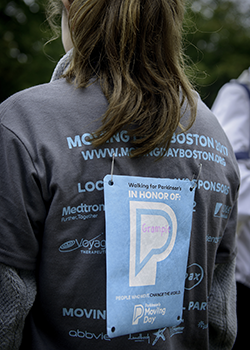 I earned a Moving Day T-shirt!
Event:
I am participating in Moving Day® Sacramento, benefiting the Parkinson's Foundation, on Sunday, May 5, 2019 at American River College – Lot A.
I am participating in this event with my mom, dad and sister to honor the memory of my Grandma (or Gima, as I called her), who passed away last year after battling Parkinson's for several years. I am sad that my Gima will never see me grow up, and I had so little time with her. I know how much she loved me and I always loved to make her laugh by being silly, and I loved to give her hugs and make her feel better when she was having a bad day.
My mom is part of the Executive Planning Committee for this year's event, and she is both excited and proud to be able to support an organization that makes such a positive impact for people with Parkinson's Disease. She knows that with our support, we might be able to help others live a better life.
Your support for this event would mean so much to me. Please consider being a part of my team or sponsoring me, and I encourage you to get your friends, family and coworkers involved. Thank you for helping me reach my fundraising goal to support the vital work of the Parkinson's Foundation.
Why Move for Moving Day?
Did you know that someone is diagnosed with Parkinson's disease every 9 minutes in the United States?
No one should have to face Parkinson's alone. That is why the Parkinson's Foundation provides a community of support to give people the resources and help they need to live well with Parkinson's.
Support our mission to help every person diagnosed with Parkinson's live their best possible life now. Your gift will help us fund better research, better treatment and better lives.