Event Details
Date: Saturday, April 13, 2019
Location: Spring Hill College – Mobile | MAP
Registration opens:  8:30 a.m. | Walk start time:  10:30 a.m.
Contact: Stacey Brandau | ph: 251-207-4504 | sbrandau@parkinson.org |
Website: www.parkinson.org
This is it! Moving Day South Alabama PD community will come together in just a few short days to fight Parkinson's and celebrate movement. Because of you, we will further fund the largest clinical study of Parkinson's in the world and expand our free resources and programs.
Here are some day-of details you don't want to miss:
What to Bring:
Friends, family members, coworkers and supporters to join you for the event. To expedite the check-in process, make sure people register at www.movingdaysouthalabama.org. Day-of registration is also available.
Any donations that you have received and need to turn into the Parkinson's Foundation. We will have official PF staff onsite collecting donations. Make sure you raise $100 or more before the event or bring the donations with you to collect your special Moving Day t-shirt! All other incentive prizes will be forwarded after the event.
Walking shoes and a smile – Bottled water and light snacks will be provided at the event.
Team spirit – You and your teammates can make your own team shirts, signs, etc. to show your Moving Day spirit!
Appropriate gear for the weather – Moving Day is rain or shine, so please dress appropriately!
Registration:
Registration begins at 8:30 a.m.  Event activities start at 9:00 a.m.   Encourage friends and family to register online before the event.
T-Shirt Pick-Up:
Registered participants who have raised $100 or more (before the event) can pick up their Moving Day T-shirt at the event.
Donations:
Please visit the registration tent to submit cash, check and credit card donations.
***Furry Friends are permitted on a leash the day of the event. ***
Parking and Directions
The event is located at Spring Hill College, 4000 Dauphin St, Mobile, AL 36608 – next to the Avenue of Oaks and Stewartfield.  Upon arrival, Moving Day signs and volunteers will direct you to the parking lot, drop-off and registration areas.  *For individuals with mobility issues/concerns, a parking volunteer will direct you the appropriate drop off location – Roundabout at the end the Avenue Oaks, which is also the entrance to the event.
From the East and West – 1-65 Dauphin Street Entrance
Take I-10 to I-65 North. Follow I-65 North to Exit 4 (Dauphin Street) and turn west (left).  Spring Hill College is less than one mile on the right (4000 Dauphin Street).  Continue Rimes Road, take Spring Hill College Road to Avenue of Oaks.
From I-65/Old Shell Road Entrance to Stewartfield, Avenue of the Oaks
Take I-65 N to Beltline Hwy N/East Interstate 65 Service Road N.  Turn right onto Beltline Hwy N/East Interstate 65 Service Road N.  Turn right onto Old Shell Road.  Drive to Avenue of Oaks – adjacent to Stewartfield.
From Campus to Stewartfield, Avenue of the Oaks
Turn left onto St Ignatius Drive, turn right onto Spring Hill College Road, slightStreet View
left onto Grotto Road and Street View continue onto Avenue of Oaks. Destination will be on the left.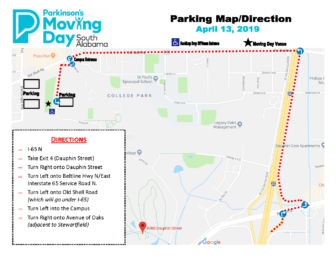 Schedule of Events:
8:30 a.m.             Registration Open
9:00 a.m.             Festivities Begin
Movement Pavilion Activities Open
Sponsor Tents Open
Resource Pavilion Open
Kid Zone Open
10:30 a.m.          Opening Ceremony
10:45 a.m.          Ribbon Cutting and Walk Start (5K and 1-mile options)                             Movement Activities Continue During the Walk
12:15 p.m.          Closing Ceremony
1:00 p.m.           Event Closes
Movement Pavilion Schedule
| | | |
| --- | --- | --- |
|  Time | Main Tent | Zen Tent |
| 9:10 a.m. – 9:25 a.m. | Rock Steady Boxing | Tai Chi |
| 9:30 a.m. – 9:45 a.m. | LSVT Loud | strength and stretching |
| 9:50 a.m. – 10:05 a.m. | Rock Steady Boxing | Tai Chi |
| 10:10 a.m. – 10:25 a.m. | LSVT Big | strength and stretching |
| During Walk | Yoga | |
Please mail checks and matching gift forms received after the event to:
Parkinson's Foundation
ATTN:  Moving Day South Alabama
200 SE 1st Street Suite 800
Miami, FL, 33131
***Please include a note listing the walker and team to receive fundraising credit. ***
Layout of Event:
Walk Route: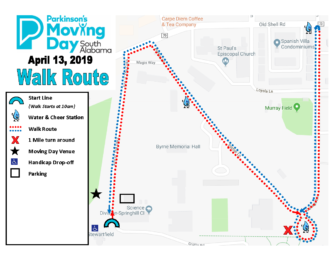 Route
1-mile and 3-mile routes are available.  There will be groups of cheerleaders and a water station along the route to provide assistance and to help keep you hydrated.  Participants can also opt to move with us as exercise classes continue in the Movement Pavilion during the walk.
FAQ INFORMATION:
How much does it cost to participate?
There is no fee to register for Moving Day, but we ask that everyone considers fundraising at least $100.  Your donations and fundraising efforts help support the Parkinson's Foundation as well as funding programs in the local South Alabama area.  If your pledges total $100 or more, you will receive an official Moving Day T-shirt.  You may also qualify for other great prizes as you continue to fundraise.
How can I form a Moving Day team?
Visit the Registration Page to get started.  If you have any issues or prefer to register by phone, please call Megan Willard (Walk Coordinator) at 816.462.9506 or email her at mwillard@parkinson.org.
Donations
In addition to online contributions, donations may be mailed to our Miami, FL office.  Please include a note with your team name and walker name, so the donation is credited to you and your team. The mailing address is:  Parkinson's Foundation, Attn: Moving Day South Alabama, 200 SE 1st Street, Suite 800, Miami, FL 33131.
Cash, check, and credit card donations will also be accepted on the day of the walk.  These can be turned in at Registration upon arriving.  You must fill out a donation envelope in order to turn in donations on site.  These can be picked up at the registration tent.
Where does the money go?
Moving Day supports vital research and free Parkinson's Foundation initiatives such as
Helpline – 1-800-4PD-INFO (473-4636), in addition to the following resources:
Rainbow Books
Aware In Care Kits
Expert Briefings
Online Library
Substantial Matters (PF Podcasts)
Ask the Doctor Forums
Near Me feature
A portion of the funds raised will also be made available for use in the local South Alabama PD community.
T-shirts
Participants who raised $100 or more will receive an official Moving Day T-shirt.  The $100 is based on individual fundraising and not team fundraising amounts.  Participants can collect their shirt on event day at the T-Shirt booth, after receiving a coupon when they check-in at registration the morning of the walk.
What is a Movement Pavilion?
The Movement Pavilions are tents that will house exercise instructors teaching various classes of Parkinson's specific movements.  While the classes are geared to PD, anyone in attendance can join and MOVE with us any way they want.  Demonstrations include classes like, boxing, strength and stretching, Tai Chi, and more!
What types of organizations will be in the Resource Pavilion?
We have a little sampling from organizations throughout the South Alabama area.  Companies like SAAD Healthcare, Center of Aging of Mobile, Acadia, Davis & Fields, P.C., Taoist Tai Chi Society of the USA, New York Life, Parkinson Association of Alabama, and Rehab Medical and more! You can also visit our sponsor booths for a wide variety of materials and companies with information on PD.  The full listing of companies will be available as soon as they are finalized.
How can my organization become a part of the Resource Pavilion?
Organizations interested in becoming a part of the Resource Pavilion should reach out to walk coordinator Megan Willard at mwillard@parkinson.org or call her at 816.462.9506.
What can I do before the walk?
Chat with our National Partners and Local Sponsors – visit with all of the incredible   companies in our Resource Pavilion.
Pick up your Moving Day t-shirt – if you qualify for one.
Join in/participate in a couple of classes in the Movement Pavilion
What about after the walk?
Stick around for the closing ceremony to hear who our top teams are for 2018.
Make some new friends!
Celebrate movement!
---
To learn more about the resources in your area, and the great work of the Parkinson's Foundation, please visit our website www.parkinson.org.
If you have any questions about Moving Day, are interested in sponsorship opportunities or would like information about the foundation, please contact us below:
Megan Willard | ph: 816-462-9506 | mwillard@parkinson.org
Mailing address:
ATTN: Moving Day South Alabama / Megan Willard
Parkinson's Foundation, Inc.
200 SE 1st Street, Suite 800
Miami, FL 33131