Make fundraising easier! Connect your Moving Day fundraiser to Facebook.
Whether you're a beginner or longtime fundraiser, we know everyone could benefit from a useful tool to help their efforts, and Moving Day has just the thing! After you register for Moving Day, you can connect your Participant Center with Facebook.
This great tool allows you to spread the word about your Moving Day fundraiser, send updates to your audience, track your progress and receive donations all on Facebook. Your friends and family can easily donate when scrolling through their news feeds and everyone will be able to see your progress on both Facebook and your dashboard.
Follow the below steps to begin using this tool!
How to Connect Your Fundraiser to Facebook
1. Register for your local Moving Day event. Log in to your Participant Center or the Parkinson's Moving Day mobile app and click on the "Fundraise on Facebook" button.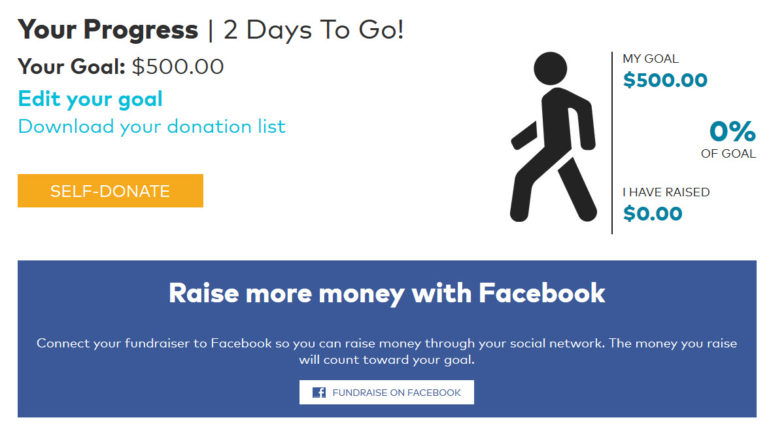 2. You'll be redirected to Facebook and prompted to log in with your Facebook credentials. Click on "Continue as Your Name". (you could see either of the image examples)
3. You will either be brought to your Facebook Fundraiser or prompted to go to your Facebook Fundraiser from your Participant Center. You can copy the url address or click the "GO TO FACEBOOK FUNDRAISER" button.
4. Edit your fundraising information, including title, description, goal amount, photo and more.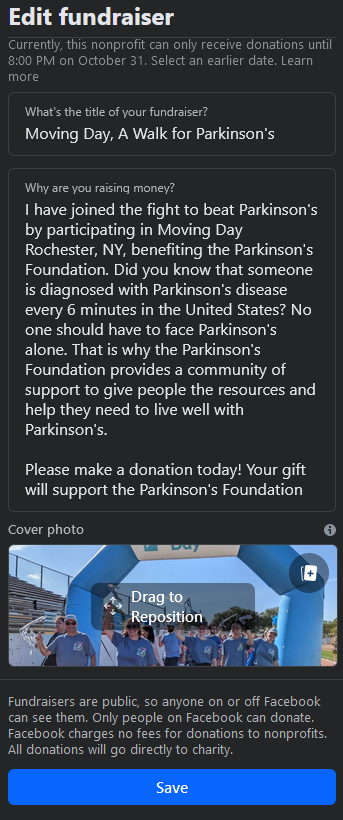 5. Promote your Facebook Fundraiser by sharing or inviting people to your fundraiser to start the donations coming in!
The Facebook Fundraiser tool not only allows you to spread the word about your fundraiser, engage directly with donors and reach more people than you ever thought possible, but it also automatically syncs your fundraising dollars with your Moving Day personal page.
For questions about fundraising with Facebook and donations made through Facebook, check out our Facebook Fundraiser FAQ page.